Brainstorming Ubuntu 9.04
Well… After taking a short break for a while… Now I'm gonna make a posts again…. I have some crazy things to do with my school and it takes all of my strength and power
. Now, I'm back again… And today, I will make some Ubuntu 9.04 prediction and brainstorming the Ubuntu 9.04(the next major release after intrepid ibex) . Yes, I know the Intrepid Ibex haven't released yet. But it's Ok right? To discuss about this Ubuntu 9.04(even the code name is still unknown right now) . But, after googling, I found so many proporsals from the ubuntu users for this Ubuntu version.
Well…. Here are some interesting proporsals and joke that I got from google:
1. Replace Pidgin with emphaty: Some users doesn't really like pidgin very much and they wants to change it to a new and fresh new software like Emphaty, Empathy is a re-usable collection of Graphical User Interface widgets for developing instant messaging clients for the GNOME desktop. It is written as extension to the Telepathy framework, for connecting to different instant messaging networks with a unified user interface.
Empathy has been proposed for inclusion in the next version of the GNOME desktop and will be included in Gnome 2.24. It includes a sample client with a similar overall look and feel to the earlier Gossip client for Jabber/XMPP servers.
2. The Codename: Many people wondering what is the next Ubuntu 9.04 codename… Well, I found some crazy suggestions and some logiccal suggesions. Some people suggest the name is:
Jabbering Jackass LOL . It's quite funny if Canonical will name Ubuntu 9.04 with those name… But I also have a suggestions(MY OWN SUGGESTION): Jaunty Jackalope Could be a nice Code Name
. Now, here is a table of the code name suggestions:
J

Jabbering
Jaded
Jaunty
Jazzy
Jealous
Jiggly
Jinchira
Jittery
Jiving
Jocular
Jocund
Jodeling
Jogging
Jolly
Jolted
Jolty
Jousting
Jovial
Joyous
Jubilant
Judicious
Juggling
Juicy
Jumbled
Jumping
Jumpity
Jumpy
Jungle
Jungly
Jurassic
Juvenile

Jabberwock
Jacana
Jackal
Jackalope
Jackass
Jackrabbit
Jaguar
Javelina
Jay
Jellyfish
Jackrabbit
Jerboa
Joey
Jentink's
Jubata
Junco
Jackalope
Well, that's only a suggestions, but who knows that my code name suggestions will be approved?
.
3. iTunes Pre Done with Wine: iTunes is a very popular music player, the only problem is that it cant work well on Ubuntu. Living in a household of 3 people with 3 iTunes users and 2 Pure Linux users, we have to collaborate all our music on our friends XP. I have tried to get iTunes to work through wine but I can never do it. I dont know if there would be licensing though. For me??? I think I'm happy with Rhythmbox Music Player right now… But I still like the suggestion.
4. KDE 4.2 Added Into Ubuntu 9.04(Including the desktop cube): The desktop cube will be integrated during the google summer of code into KDE 4.2, which apparently will pe base of (K)Ubuntu 9.04.
I would like to see the desktop cube by default then – it is one of the eye candies that are really useful/good (and btw: a thing Windows and OSX does NOT have, at least noct within the standard OS).
5. Fix The Wireless Drivers / The Network Drivers: Well…. This is my OWN SUGGESTIONS. Canonical REALLY need to improve their Ubuntu quality by fixing the Wireless Drivers or the Network Drivers.. I found that so many people has a problem with the wireless drivers at their laptop and has some trouble to connect to the internet. And I'm personally also has a problem with my D-LINK DWL-G122 driver. And because there's no internet connectivity, I moved again to windows. Right now I'm using ubuntu via wired connection
.
6. Ubuntu Store: Apple has it's own store and it's growing so fast. I think Ubuntu also needs to make a store… With the bigger selection, cheaper shipping, better products. I think canonical can done this things right?
.
7. BootScreen Change: Well… People feels kindda bored with the bootscreen, I think canonical also need to change the bootscreen. But, there's already some cool software that can change it… I will post it someday… I hope this software can be added at ubuntu. It will make ubuntu more customizeable then today…. Change it from this: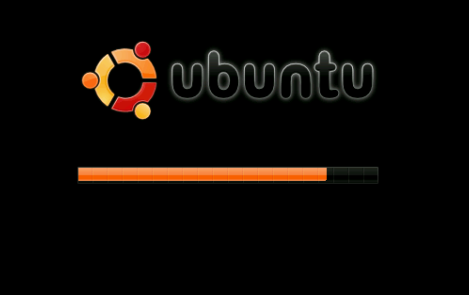 To this: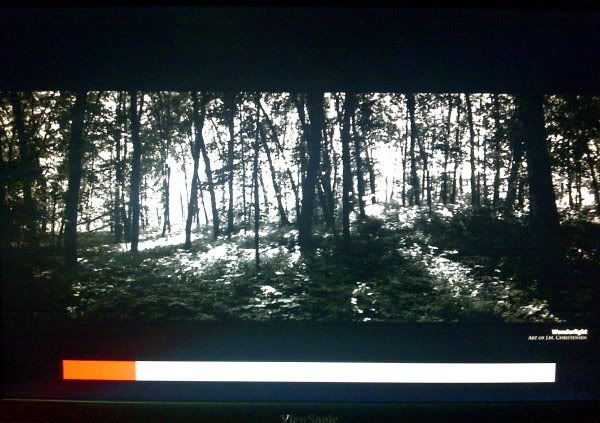 Thx to melayubuntu I found this interesting software. The software name is
Splashy
. You can found it also at melayubuntu.blogspot.com(melayu language) but I will make the translations as soon as possible
. There's some probabilty that the bootscreen will be changes in ubuntu 8.10. But who knows???
8. Tab Dock (running Mock-up):
HERE IS SOME QUOTES FROM GNOME-LOOK.ORG , I like the concept.
"""" this is a running mock up!
In Gnome all apps are categorized and so it is very easy to find the app you want in a short time ! For now u must use for that the gnome menu. I like it much more as the old windows one because it has a much better organization, but nevertheless it is a start-menu and also gimmie (maybe the new gnome start-menu) also when it will have much new features is a start menu, so I thought, because gnome always wants to be different:
"Why a start-menu"
So I made this mock-up! It has no menu! It has a tabed dock at the top which holds all apps and a search function for your "system" and everything else like files or places …
When you does not need the dock moves out of the desktop and you can just see the taps. So the desktop is very clean!
To test it:
1.unpack the .tar file
2.run a terminal
3. write "cd browse to your folder/TabDock"
4. write "python tabdock.py"
Hope you like it
"""""""
You can download it at here
Well then, that's only 8 from a hundred of other suggestions and concept of ubuntu 9.04, I make this post just for fun and to expand the
imagination…. Hope you like it…. If you have more concept, you can contact me(just make a comments) and I will add those concept into this post.
4 comments