Software
0
After browsing for a while, and I got a really useful information for Linux users, Mac users, and specially Ubuntu Users!! Today, 28 october 2008, CodeWeavers.com giving us a linux/mac users a special promotion to get and download crossover just for free for today. CrossOver is a shareware that allowed mac/linux users to run windows software inside their no-windows operating system. It's a pretty cool things for a Linux rookies for sure.
This is some quotes: On Tuesday, Oct. 28, 2008, any one visiting the CodeWeavers' Web site (www.codeweavers.com) will be given a deal code that will entitle them to one free copy of CodeWeavers' award-winning CrossOver software. Each copy comes complete with support.
Now, I will give the download links(Just works for today):

Quick download it while it still fresh!! It's only for today!(28 oct 2008).
0
VLC 0.9,5 already released, check out the vlc
website
. "The VideoLAN team is pleased to announce the release of VLC media player 0.9.5. This is a bugfix release. VLC media player 0.9.4 and earlier versions suffer from security vulnerability in TiVo demuxer. More technical details are available in
our advisory
(CVE-2008-4654, CVE-2008-4686). Also, libpng was updated in Windows and MacOS builds to fix its security issue (CVE-2008-3964)."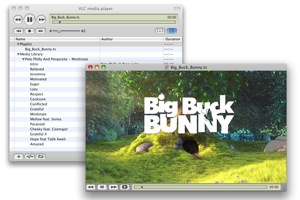 This release also improves media keys support under Windows, file access under all OSes, QT interface usability as well as fixing few more other bugs. Full list of changes can be found
here
.
They strongly recommend all users to update to this new version.
Binary packages for
Mac OS X
and source code tarballs are available for download. Windows binaries might arrive at a later time.
VLC Media Player 0.9,5 released in 24 oct 2008. For the installation (Mac,Linux, & Windows), go to this
page
.
0
Are you boring with the image viewer that currently a default image viewer in Ubuntu? I think I'm pretty bored with those image viewer. But, I finally found some resolution for this thing. I just made a little experiment with the image viewer in Ubuntu and I compared with with GPicView. And with a little calculation, I finally made my decision to change my picture manager into GPicView:
GPicView has more simple GUI than ImageViewer, and it also has a lot of features to runs, you can see the comparative image:
The speed? No doubt, GPicView is way more faster than ImageViewer. After some calculation, the time differences between GPicView and Imageviewer is 0.7 . And GPicView is the winner.
GPicView use a small memory usage. I hope people will like this software.
The installation: GPicView or simply type sudo apt-get install gpicview .
That's all.
3
People thougt that the recent version of microsoft office (2007) can't be ran in linux/ubuntu. But, I finally found some useful method after googling and some problem solve with it. There are actualy a lot of method to do to install office 2007. Check it out by yourself!
About Office 2007
Office 2007 is the latest release of microsoft office for windows. It has a lot of features like ribbon interfaces that enabled users quickly can find the menu that they wants. And formerly known as Office "12″ in the initial stages of its beta cycle, it was released to volume license customers on November 30, 2006 and made available to retail customers on January 30, 2007. These are, respectively, the same dates Windows Vista was released to volume licensing and retail customers.
But, what people know is, microsoft office 2007 CAN'T BE INSTALLED IN LINUX . Well, I finally found some useful method to install office 2007 in linux/ubuntu.
Installation:
Well, this installation is using wine 1.0 with windows version that emulated is windows xp.
1. Before the installation, make sure you ALREADY HAD CROSSOVER GAMES. CrossOver Games enabled you to install office 2007 inside your linux/mac!
2. After CrossOver Games already installed, go to ~/cxgames/lib/wine and copy the rpcrt4.dll.so to ~/.wine/drive_c/windows/system32 you will need to re-name the pointer rpcrt4.dll that is currently in ~/.wine/drive_c/windows/system32 to *.bak and then re-name the rpcrt4.dll.so to rpcrt4.dll .
3. While your already in /system32 re-name the msxml3.dll also to *.bak
4. the next thing to do is run winecfg again and set msxml3.dll and rpcrt4.dll to "native windows" select save and exit.
5. DOWNLOAD AND INSTALL Microsoft XML Parser (MSXML)
after the download cd to the directory where you saved it and run.
$ msiexec /i msxml3.msi
6. MOUNT your office 2007 DVD with the option -o unhide. This method will avoid having problems with the hidden files during installation.
Mount and cd to your disk and start the install.
e.g:
mount -t iso9660 -o unhide /dev/cdrom /media/cdrom0
Jo@Ubuntu:~$ cd /media/cdrom0
Jo@Ubuntu:/media/cdrom0$ wine setup.exe
That's all!
Some Problem with this office 2007 linux:
1. There must be some unsolved bugs in here.
2. If you are not have any crossover games, it's probably a good time to become a customer or, the other way is download the crossover torrent(I warn you, it's illegal!). But here is some tricks not to use the crossover, manual installation by using TRiX to install native DCOM and MS XML, instead of using built in DLL's from
crossover. It will saves you from buying it!
3. Currently Outlook does not run; however, the next release of Bordeaux will support Outlook
2003 and 2007.
4. To all the Ubuntu users trying to get this to work: Ubuntu has Wine 1.0.0 in it's repositories at the moment. By downloading the latest Wine you can install Office 2007 with default settings (You don't have to mess with the dll:s).
Step 1
Download the latest Wine as described here.
Step 2
Install Office 2007 with Wine (Don't mess with the dll:s).
Step 3
If you want to use Powerpoint,
then you have to set riched20.dll to native-then-builtin (Messing with the dll:s) as described
here. You don't have to download anything, just set the dll to native-then-built in.
Some screenshots:
3
After using Ubuntu since a long time ago, there's something that always bugging me. Every time I played a games with compiz fusion running, there must be a conflict like the screen goes black, distorted, or even crash! Well, right now, I have a easy method to do to solve this conflict.
3
Today, I'm going to introduce gambas for programmer, specially a VB programmer. Gambas, is one free software development enviroment based from basic interpreter and works just like visual basic in windows! With gambas, we can design GUI or a program by using QT or GTK+, SQL, PostgreSQL, Firebird, ODBC, and SQLLite database also to translate any 3D OpenGL application and web application CGI. Well, it surely has a ton of features.
6
Recently, I just found that VideoLAN team has released their new VLC
media player 0.9.2 Grishenko. I saw at their official website that this new software has a lot of new feautures for media player and streaming. VLC media player is a highly portable multimedia player for various audio and video formats (MPEG-1, MPEG-2, MPEG-4, DivX, mp3, ogg, …) as well as DVDs, VCDs, and various streaming protocols. It can also be used as a server to stream in unicast or multicast in IPv4 or IPv6 on a high-bandwidth network.